Many attempts have been made to create German country music.
We researched on the original: German songs from America in ancient times, when banjo and fiddle were still being played to the rhythm of steam boats and trains. We investigate the earlier cultural passages between the Old and the New World. We scout out the legendary New World in facts and fantasy, showing how America was germanized, long before they americanized Germany.
We discovered German spirituals, farmers' and children songs, with lyrics both earthy and cunning.
We teach you to sing in Pennsylvania Dutch and introduce you to the less known details of the works & life of the popular German 19th century adventure novelist and romantic composer Karl May.
A colourful performance for small stages, full of contrasts and surprises!



Click >> here for an English translation of the cd booklet "Lieder, so deutsch wie der Wilde Westen" (pdf file).




>> concert dates
>> pictures for download
>> "Lieder, so deutsch wie der Wilde Westen" (German version)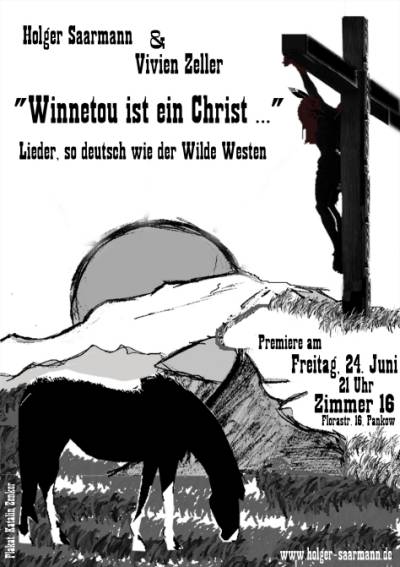 First flyer (Katalin Zenker, 2004)







Germans in America – what songs did they sing?


Around 1790, if being asked for his origin, one out of ten North Americans would have answered "German". Between 1848 and World War I, another six million Germans crossed the Atlantic for the New World. Like any other ethnic group, they spoke their ancestors' language over generations. And the song collector believes that, at that time, those who spoke German also sang German.
So, what did they sing? It seems very improbable that it was only the old tunes and ballads of their forefathers. Those Germans in the former century's New World must have had their very peculiar songs! Were there poets who wrote them? Singers who brought them into public? Did songs just arise by themselves, at work or in sociable occasions? Were they borrowed from the musical funds of neighbor cultures?
I was given first answers at the Deutsches Volksliedarchiv in Freiburg (Black Forest). I was welcome to study song books and leaflet copies from America for a couple of days. It was a most fruitful research, discovering >> tunes and poetry by the Pennsylvania Dutch, such as Spirituals, farmers' and children songs!


Opening the show with an original emigration song.
Here's the lyrics & translation!


A children song, explaining the farmgirl's physiognomy (incl. "knowledge-box") to little Michel.
Here's the lyrics & translation!

One of our favorites. Unlike many other traditional English tunes, this one was not translated by German immigrants.


Dutch, as you may know, actually meant deutsch, the word is older than the historical split of the Netherlands from the Holy Roman Empire of German Nation in the 15th century. The dialect has certainly nothing in common with the Netherlands' Dutch, but is a mixture of southern German dialects, such as Pfälzisch (Palatine), Schwäbisch (Swabian) and Fränkisch-Bayerisch (Franko-Bavarian) – plus lots of English loan-words.

Pennsylvania is regarded as the cradle of modern democracy: In 1787, the second democratic constitution of modern history was passed here (using the 1780 Constitution of the Commonwealth of Massachusetts as a model). According to the visions of the English quaker William Penn (1644-1718) who named the former colony after his father, an admiral, Pennsylvania was supposed to become a refuge for the victims of persecution from all over the world, a model state, stamped by ideological pluralism and tolerance. Slave trade, as practised in the south, was taboo here, though, in fact, it was not banned before 1865, when the southern states were subjected in the civil war.
It was Germans who, in 1688, first protested publicly against slave trade. (Read the >>petition) This was in Germantown, Pennsylvania, the earliest "Dutch" settlement in North America, founded in 1683 by Mennonites from Krefeld (incorporated by Philadelphia in 1854).

Although the Wild West certainly was some distant place, Pennsylvania may appear as the most suitable destination for nostalgians: In Lancaster County, members of the Amish Church (who split from the Mennonites in the 16th century) in strict Christian conviction still refuse the technical progress of modern times. People still travel by coach, while cars and electricity will only be accepted in emergency. Church services are held in "Hochdeutsch", children will not learn English before school. Thus, Mennonites, Amish or (in Canada) Hutterer kept some German dialects of historical stamp. According to experts, however, those must not be mixed up with Pennsylvania Dutch.



I have to rely on experts, since, alas, I haven't been to America myself. This could be considered a shame, if I hadn't grown up with the novels by Karl May (1842-1912), the famous and still popular (!) German author who wrote dozens of (mostly serialized) reports about his adventures in the Wild West, where he was known as Old Shatterhand, a brave and righteous man who becomes best friend (and blood-brother) with Winnetou, the Apachee chief. Tragically, shortly after being converted by his white brother, the Apachee dies in a gun fight and, with his last breath, makes his confession as a new-born christian. A German male choir fulfills his last wish, singing a hymn which was actually composed by Karl May – and is certainly featured in our show!
Yet, in true life, May had never really been to the Wild West! In fact, he went to see the Niagara Falls with his wife when he was 66 – and was incapable to write any more adventure novels after his return to his Villa Shatterhand in Dresden-Radebeul. His confession that all his travel reports were fiction, plus the journalistic revelation of some details about his tempestuous youth provoked a public scandal. Appreciating his merits to save generations of kids from fatal boredom, we dedicate him a song, using the tune of a well-known minor song.








Audio samples from "How the West was Dutched" –
and from the CD "Lieder, so deutsch wie der Wilde Westen"



Karl May, posing as Old Shatterhand (1896)



Beyond "16 Tons", there may be other moments in our show, revealing that, in spite of all the love we feel for the old Dutch Folk Songs, we neither can nor will deny our musical and cineatic influences of the 20th century. But, since anybody can put on a Johnny Cash record or watch "High Noon" for the 17th time, Vivien and me decided to do something particular: Instead of buying a plane or ship ticket and a visa for a journey abroad, we travelled as blind passengers on an emigrant ship, hidden behind two or three centuries, and listened to the "Dutch'" songs in a strange land.
On stage, we first presented our travel report to the Old World in June 2005. The musical essence was issued as a (studio) album in October 2007.












The CD album to the stage show:
For details, please visit the >>Shop or
>> Download the booklet (English translation)


Maybe one bright day we will see America and bring our instruments, too. I wonder if the real America will be as inspiring as its music, since it seems that the tunes from this big, both alien and familiar country that drew so many people across the Atlantic, inspire melancholy thoughts and feelings about what the "Dutch" call Heimat, or rather about the search for a place to call so.

Thanks to Vivien Zeller for all her creative input and energetic support – and to many others, mentioned at the bottom of the >> German essay where you will also find literature references and web links.

Holger Saarmann

PS: Mind this small internal link collection on the topic (all bilingual):


>>Pennsylvania Dutch Traditionals
>>Songs by adventure novelist Karl May
>>Ballad of the poor weaver's son Karl May
>>Follow the Drinking Gourd
>>She's like the Swallow
>>I'm just a poor wayfaring Stranger



Listen to the collected music samples here, on Soundcloud.
The CD "Lieder, so deutsch wie der Wilde Westen" may be ordered here, at the shop.



---

>> concert dates
>> pictures for download
>> "Winnetou ist ein Christ ..." (German version)






---

---