---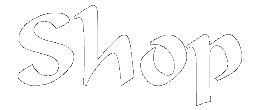 Welcome to Holger Saarmann's CD shop!
Please read the conditions of sale!

If you click on a song title, you have access to the song's lyrics,
including information on musical and historical, sometimes personal backgrounds.

Unlike the uploaded audio files, the CDs' sound quality is excellent.




---
Auf's Maul geschaut –
Regionalsprachen und Dialekte im deutschen Folk









Tracks:

1. Früh bann dr Morche grauit HÜSCH!
2. SpuimaNovas HIRSCÖH
3. Man tufaalsflenerk KALÜÜN
4. Der Guckguu HOLGER SAARMANN & VIVIEN ZELLER
5. Dat du min Leevsten büst HERZGESPANN

6. Bimbel, Bimbel, Bähnele MARTIN SCHÜTT
7. Shpil she mir a lidele in jiddisch ZIGANIMO
8. Daaling, maat, do drank ik een & Pearly Dance KALÜÜN
9. Geschder waar der Michel do HOLGER SAARMANN & VIVIEN ZELLER

10. Koom ik weerum EM HUISKEN
11. Över de stillen Straaten HERZGESPANN
12. Ënn ëmm klænen Dòrf WHY DIDN'T THEY ASK EVANS?
13. Waard Ruuch KAY KANKOWSKI
14. Es wår zur Frühjårschzeit HÜSCH!
15. Hans bleib da! STEFAN STRAUBINGER
16. Endlik Weer SPILLWARK





Price: 15 Euro + postage/ packing

( Conditions of sale)

Also available via mail order at "Bluebird Shop Berlin".


This sampler, compiled by the German folk association Profolk e.V., assembles songs in German (and related) dialects and regional idioms, with no claim for completeness:
Friesisch, Niederdeutsch, Plattdeutsch, Hunsrücker Moselfränkisch, Niederalemannisch, Bayrisch, Thüringisch, Jiddisch und Pennsylvania Dutch are represented, mostly with two songs, often performed by the same act.
The compilation is enjoyable to listen, though I personally find its concept a little callow: The selection of idioms was probably due to the music that was at hand anyway. But I admit that's quite impressive. And as I heard they are already thinking of compiling a sequel.

Sadly, the booklet – after a competent introduction by Ralf Gehler – mainly consists of artists' self-portrayals, which, in their egocentricity, would have required an editorial revision in terms of the CD topic.
Und die (vom Platz her unnötige) Abkürzung unserer Namen auf dem Inlay (CD-Rücken) ist wohl immer noch der Falsschreibung des Namens Vivien (mit E!) im Booklet vorzuziehen.

Holger Saarmann
---
| | |
| --- | --- |
| SAGO singt Stählin | |
| Die Versammlung der Inseln | |




Tracks:

1. Der Clown JAN GAENSSLEN
2. Der Kirschbaum DANNY DZIUK
3. Lieben heißt Liebe Entbehren HOLGER SAARMANN
4. Die kleine heile Welt ANNETT KUHR
5. Frühlingslied MATTHIAS BINNER, STEPHAN BIENWALD, MAREN KROYMANN,

BÉRANGÈRE PALIX & HOLGER SAARMANN

6. Manchmal wenn TINA HÄUSSERMANN
7. Herbstspaziergang SEBASTIAN KRÄMER
8. Lob der Kuh MAKA KANDELAKI
9. Mein Freund und Schlawiner PHILIPP SCHMIDT-RHAESA

10. Der Trampelpfad TIMO BRUNKE
11. Die Bahnen (... und zieht seine Bahn) ARNO RITTGEN
12. Der Kapitän JÖRG SIEPER
13. Komm, küss mich ULI ZEHFUSS
14. Die Voraussetzungen MATTHIAS REUTER
15. Was ist uns von Preußen geblieben MARKUS HEINIGER
16. Was hätt ich denn davon MARTIN SOMMER
17. Das Tiefe UTA KÖBERNICK, ANNETT KUHR, SEBASTIAN KRÄMER & TIMO BRUNKE
18. Schlaflied (Alles hat seine Weile) DOTA KEHR




This Christof Stählin Tribute CD originally was a present of his students on the occasion of his 70th birthday, in summer 2013.
The master himself made this song selection.
Date of issue: February the 17, 2013 on "Text & Ton Records"

The CD was encouraged and supported by Kultursommer Rheinland-Pfalz.
It should be available in record stores throughout the EC, but will also be presented for sale by almost any featured artist.



Right: a full length audio sample of "Das Tiefe" on YouTube;

For further (short) audio samples, go to


Price: 15 Euro + postage/ packing

( Conditions of sale)



---
---








Tracks:

1. Auswanderlied (Pennsylvania Dutch Trad.)

2. Wu ich in des Land bin kumme (Pennsylvania Dutch Trad.)

3. Unser deitsche Brieder (Pennsylvania Dutch Trad.)

4. Der Guckguu (Pennsylvania Dutch Trad.)

5. Sie gleicht der Schwalbe (She's like the Swallow) (Trad./ German lyrics: Saarmann)

6. Vergiss mich nicht (Karl May)

7. Ballade des armen Webersohnes Karl May (Trad./ German lyrics: Saarmann)

8. 900 Miles (Trad.)

9. Follow the Drinking Gourd (Trad.)

10. Stan' still Jordan (Trad.)

11. Wo sind unser Brieder (Pennsylvania Dutch Spiritual)

12. Geschder war der Michel do (Pennsylvania Dutch Trad.)

13. Ei, du Zustand! (Oh! Susanna) (Stephen Foster/ Pennsylvania Dutch Trad.)

14. Katy Cruel (Trad.)

15. Oi Oi Oi (Pennsylvania Dutch Trad.)

16. Ave Maria (Karl May)

17. Heim zu gej (Pennsylvania Dutch Spiritual)

18. Wanderlied (Wayfaring Stranger) (Trad./ German lyrics: Saarmann)

Bonus (solo):
19. Vergiss mich nicht (Version 2) (Karl May)




"Lieder, so deutsch wie der Wilde Westen" – (mostly) full length audio samples
(The presentation was added for radio play at lastFM and is not included on CD.)





Many attempts have been made to create German country music.

This album documents our research on the original: German songs from America in ancient times, when banjo and fiddle were still being played to the rhythm of steam trains and boats.
We scout out the legendary New World in facts and fantasy, showing how America was germanized, long before Germany was americanized.

We discovered German spirituals, farmers' and children songs, with lyrics both earthy and cunning.
While we translated some of the English lyrics by ourselves, others remained English.
The result is a colourful album, full of contrasts and surprises, showing "How the West was Dutched".

The CD version of our programme "Winnetou ist ein Christ ..." was (co-)mixed by Phil Freeborn at Freeborn Sound Studio (former nuphobia Berlin) and issued on the Label Bluebird Café Records Berlin. The 16-pages booklet includes all lyrics and a comment for each song.

An English booklet translation can be downloaded here (pdf file).

All arrangements: Holger Saarmann (vocals, guitar, accordion, percussion) & Vivien Zeller (fiddle, vocals)

Price: 15 Euro + postage/ packing

( Conditions of sale)

This CD is also available via mail order at "Bluebird Shop Berlin" and at the "Karl-May-Verlag Bamberg" (>Fanshop >Musik).



---








My CD debut, recorded in winter 2000/ 01.

Vocals, guitar & all arrangements: Holger Saarmann




Tracks:

1. Lied vom Brombeerenpflücken (Trad.)

2. Flogen einst drei wilde Tauben (Trad.)

3. Wenn ich ein Vöglein wär (Trad.)

4. Nachtigall ich hör dich singen (Trad.)

5. Hinaufschauen (Holger Saarmann)

6. Wie schön blüht uns der Maien (Trad.)

7. Feinsliebchen, du sollst mir nicht barfuß gehn (Trad.)

8. Ukrainisches Abschiedslied (Trad.)

9. So grün als ist die Heiden (Trad.)

10. Reiterlied (Justus W. Lyra/ Georg Herwegh)

11. Graf und Magd (Trad.)

12. Zufriedenheit (Georg Neumark/ Trad.)

13. Ach Blümlein blau (Trad.)

14. Schnitter Tod (Trad.)

15. Zecherbündnis (Trad./ G. E. Lessing)

16. Lied für die Pariser Kommune (Trad.)

17. Es ist ein Schnee gefallen (Trad.)

18. Mädchen am Haff (Trad.)

19. Ich weiß mir ein Maidlein hübsch und fein (Trad.)

20. Herbstlied (Trad./ August Mahlmann)

21. Abendlied (Der Mond ist aufgegangen) (J.A.P. Schulz/ M. Claudius)

22. Ode ans Diesseits (Solo-Version) (Holger Saarmann)





Compilation of audio samples (app. 40 seconds per song):






German Folk, as presented by the mass media, is mostly commercial Schlager music, disguised in traditional costumes.

Combined with the impressions of Munich Oktoberfest, that is also the image of current German Folk music abroad: Lots of Hump-ta-ta with beer.

This album will offer you a completely different view: It presents German Folk in its most intimate purity, just vocals and guitar.

This album reveals the roots of the romantic Lied composers, such as Beethoven, Brahms and Mendelssohn.

Collected here are rarely performed ancient songs of love and farewell, of deaths and maidens, of dukes and beggars, of revels and revolution, of luck and loss, of rings and riddles, of seduction and devotion, of green pastures and cool valleys.

72 minutes playing time!

In addition to the 8-pages CD-booklet, the lyrics (German/ English) are included on two extra sheets.

(You can also download a pdf file here.)

Price: 13 Euro + postage/ packing

( Conditions of sale)

This CD is also available via mail order at "Bluebird Shop Berlin".



---

Compilation of audio samples (app. 40 seconds per song):






Mara Petersohn, who did the cover artwork, commissioned me to record this album of lullabies – for her son and for all the little children of her friends. Repeat orders came in quickly.

New songs issued here are "Leise, Peterle, leise", "Verstohlen geht der Mond auf", the english classics "Scarborough Fair" and "Rest sweet Nymphs" and the yiddish "Aj-lju-lju" (sung by Fetija Jasari). It also includes four tracks from "Hüt dich, schöns Blümelein!" and – exclusively – the first version of my "Stiller Schlager".

Ten lully songs from five centuries and six countries.

Vocals, guitar, glockenspiel & all arrangements by Holger Saarmann –

except for "Rest sweet Nymphs", which is an original composition from 1605 for voice & lute


This CD was first "issued" in December 2003, starting with 15 copies. It will be "burned" on request and (instead of a label) signed by hand, packed in a slim-case, together with a beautiful colour-copied cover inlay.


Price: 7 Euro + postage/ packing

( Conditions of sale)

Note: This CD is a self-burned, hand-lettered provisional! I use "Platinum" CDs which were judged "good" by "Stiftung Warentest" in 2003. However, I cannot take any guarantee for their life expectancy. It is left to your discretion to copy the CD to a medium of your confidence.
Please consider that many older CD players are not fit to play self-burned CDs (faultlessly). In such case, I recommend to copy your CD, by PC, to a blank disc of a different brand.



---
---
---
---

Conditions of sale:

Please order CDs informally by mail order:
post@holger-saarmann.de
I will confirm your order personally and, if required, answer any further questions.

Payment:
Only in advance. Banking details will be communicated upon order.

Discount:
One CD of free choice if above 80 EUR order value!

Delivery:
Within seven days after receipt of payment.

Postage costs (including package, up to 500 g ≈ 4 CDs):
2 EUR within Germany
5 EUR abroad


Complaint/ Exchange:
If a faulty CD should slip my strict quality control, please claim within 14 days after dispatch.


Website & Shop credits: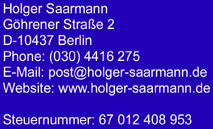 ---
---

CDs by me
and by many other Folk & Song artists
from Berlin and Germany
are also available here:




---
---
Home Holger Who? Live News Programme Songs Shop Presse Links Flohmarkt Kontakt